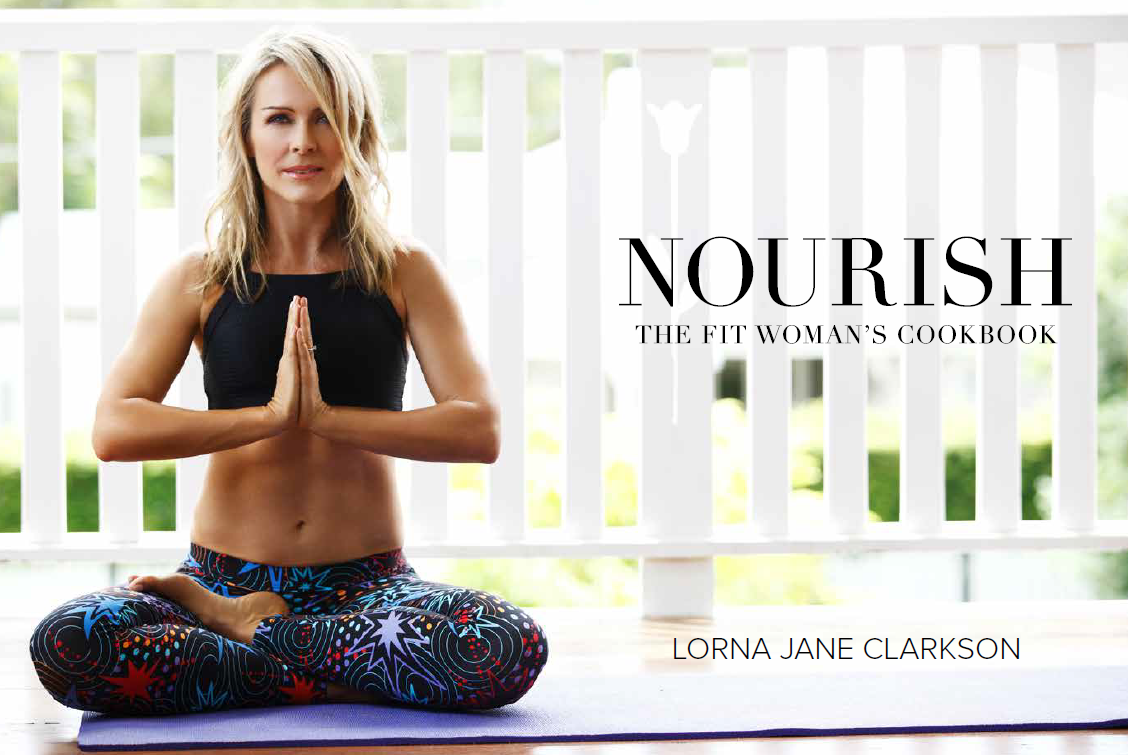 Lorna Jane Clarkson is an active wear designer that has grown to be so much more.  Her philosophy and daily mantra of  Active Living  has not only allowed her to get more out of life but it has resonated with so many of us who are trying to better our lives from the inside out.
Active Living can be summed up in 3 words: MOVE, NOURISH, BELIEVE.  Move your body everyday. Nourish your body with delicious food. Believe anything is possible if you are willing to work for it.
And that leads us to her amazing new cookbook: NOURISH – The Fit Woman's Cookbook.
NOURISH is so much more than a cookbook.  It's a collection of everything Lorna Jane has learned on her own journey in nourishing her body.  Inside you'll find inspirational quotes, alkaline & acidic foods, mouthwatering recipes, seasonal eating recommendations, and thoughts on hydration, good digestion, and dieting.
Now that you have a little insight to Lorna Jane – let's talk about the recipes!
There are 122 recipes in total which break down as follows:
9 Elixirs & Tonics
15 Breakfasts
9 Smoothies
18 Snacks
17 Lunches
15 Dinners
16 Desserts
4 Basic Recipes
19 Dressings, Sauces & Sides
I love that she incorporated elixirs and tonics and I've already tried my hand at her Immunity Tonic – here's the recipe:
Immunity Tonic
Whisk 1/2 cup freshly squeezed OJ with grated 1/2″ piece of fresh ginger, 2 teaspoons manuka honey and grated 1/2″ piece of fresh turmeric in a small jug until combined. Pour into serving glasses or bottles.
(Prep time is 5 minutes, serves 2, protein: .4 g, carbohydrates: 10.7 g, total fat: .1 g, fibre: .2 g)
  What you feed yourself today can improve all your tomorrows.
I also tried my hand at one of her four green smoothies and it was FANTASTIC!  Here's the recipe:
Green Smoothie 1 Mild
In high-speed blender, blend 1.5 cups loosely packed baby spinach leaves, 1 coarsely chopped small banana, 1/2 peeled, cored and coarsely chopped medium ripe pear, 1 peeled, seeded and coarsely chopped small orange, 1/2 coarsely chopped Lebanese cucumber and 1/2 cup filtered water or coconut water until smooth. Serve in glass.
(Prep time is 5 minutes, serves 1, protein: 5.6 g, carbohydrates: 43.1 g, total fat: .7 g, fibre: 8 g)
❤❤❤❤❤❤❤❤❤❤❤❤❤❤❤❤❤❤❤❤❤❤❤❤❤❤❤❤❤❤❤❤❤❤❤❤❤❤❤❤❤❤❤❤❤❤❤❤❤
I highly recommend this cookbook to those of you who cherish your bodies and want to nourish them with healthy and delicious foods.  
Lorna Jane has packed so many great recipes into this cookbook from Kumara & Peanut Butter Soup to Mustard Beef to Ginger Balls, you'll be sure to find a recipe for any occasion!
❤❤❤❤❤❤❤❤❤❤❤❤❤❤❤❤❤❤❤❤❤❤❤❤❤❤❤❤❤❤❤❤❤❤❤❤❤❤❤❤❤❤❤❤❤❤❤❤❤
Want to get your own copy of NOURISH?
You can PRE-ORDER one if you click here OR you WIN a copy by participating in the #LiveLoveNOURISH initiative.  Lorna Jane and FitApproach are giving away 10 NOURISH Cookbooks + $200 Gift Card to Lorna Jane! Party with the SweatPink community and Lorna Jane on Twitter this Wednesday, July 9th @ 6PM PST/9PM EST. Hashtags: #LiveLoveNOURISH #sweatpink #lornajane @LornaJaneActive @FitApproach
Kick off your participation in the #LiveLoveNOURISH by clicking here –> Tweet: Join the #LiveLoveNOURISH initiative w/ @LornaJaneActive @FitApproach! Giveaway of: 10 NOURISH Cookbooks + $200 Gift Card to #lornajane!
Visit LornaJane.com to check out her latest gear and visit MoveNourishBelieve.com to join the sisterhood!
I received the ebook version of NOURISH to review without monetary compensation. I was given the opportunity to review through the Sweat Pink Ambassador Community. As always, all opinions are my own. Full PR & Disclosure here.
 For more product reviews, giveaways, and recipes – click here for BR News!