Apparently, my last pregnancy left me with a knack for making food spicy. If you enjoy a tasty kick when you eat - you'll flip for these spicy meatballs. If you love a nice glass of wine - check out my wine pairing after the recipe. Buon Appetito!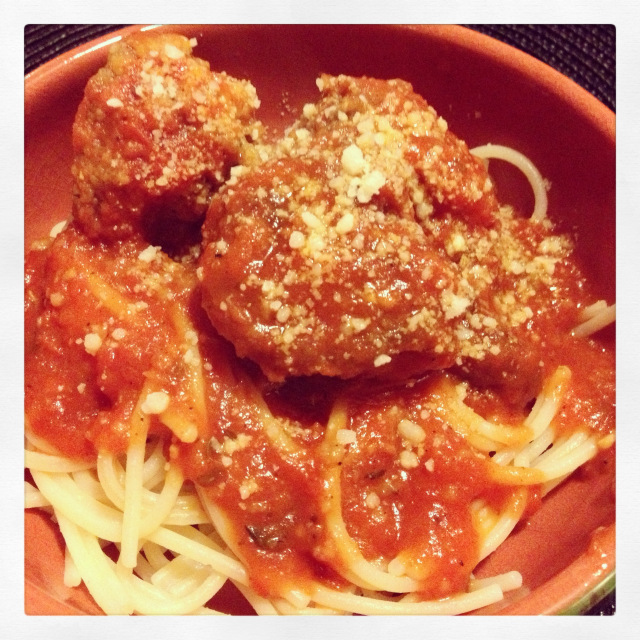 Gluten-Free Spicy Meatballs
Total Time: 30 minutes
Ingredients:
1/3 cup ricotta, sheep or goat (may omit)
3 garlic cloves, minced
2 tbsp Italian seasoning
1 tsp red pepper flakes
1 tsp Kosher salt
1/2 tsp fresh ground pepper
8 fresh basil leaves, chopped
1 large shallot, chopped finely
1 large egg, beaten
1 cup gluten-free bread crumbs or tortilla, crushed
1 pound ground beef
1 pound ground sausage
oil for frying
Directions:
Preheat oven to 300°F. Combine first 9 ingredients in large bowl and mix well. Add in bread crumbs and mix thoroughly. Using hands, gently fold in beef and sausage until just combined. Roll mixture between hands to form 2″ balls.
Heat oil in large skillet and brown meatballs, in small batches, for 1-2 minutes per side. Remove from oil and place meatballs on baking sheet. Bake for 15 minutes or until cooked through. Serve with your favorite gluten-free pasta and tomato sauce.
Wine Pairing:

Tomato based sauces are highly acidic so you need a highly acidic wine to compete with it or the dish will come off as flat and metallic. All 3 of the wines below would be a perfect match!
Red Wine - Ripasso Valpolicella
Red Wine - Chianti Classico DOCG
Red Wine - Montepulicano d'Abruzzo