Rice is kind of like bread for me. I love it and it's comforting, but my body doesn't react well to it.
I can have it on occasion, but I typically choose quinoa or just avoid it all together. For some reason, my body just doesn't love starches.
So, what is a girl to do?
Find a copycat of course!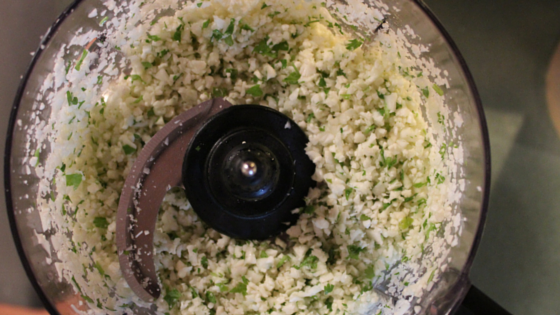 This recipe is a great match for dieters or those looking to get more veggies in their diet (which is pretty much all of us).
It's so simple, it's almost ridiculous. You can eat this raw or slightly cooked as in the recipe below. Either way, I think you're going to love it!
Cilantro Cauliflower Rice
Ingredients:
1 head organic cauliflower
2 cloves garlic, minced
3 Tablespoons EVOO
handful of cilantro
salt & pepper, to taste
lime zest, optional garnish
Directions:
Break apart cauliflower into florets and separate into two bunches. Add first bunch to food processor along with 1/2 the cilantro and pulse until finely chopped. Move chopped mix to large bowl and do the same with the remaining florets and cilantro. Add second batch to large bowl and add salt and pepper to taste. Stop here if you like it raw and crunchy.
If you want it more similar to couscous or cooked rice, place oil in large pan and heat over medium heat. Add minced garlic to pan and saute for 3 minutes. Add cauliflower mix to pan and cook for an additional 5 minutes, covered. If needed, add a splash of water to add moisture.
Serve warm with lime zest over top (optional) and refrigerate leftovers.
Comments
comments